Latest
28-04-2022 Njoftime
U prezantua sot Raporti Vjetor i ERE në Kuvendin e Shqipërisë, nga Kryetari, Z. Petrit Ahmeti. Raporti paraqiti në mënyrë të detajuar të dhëna mbi ecurinë e Sektorit të Energjisë...
Lexo më shumë
13-04-2022 Deklarata për Shtyp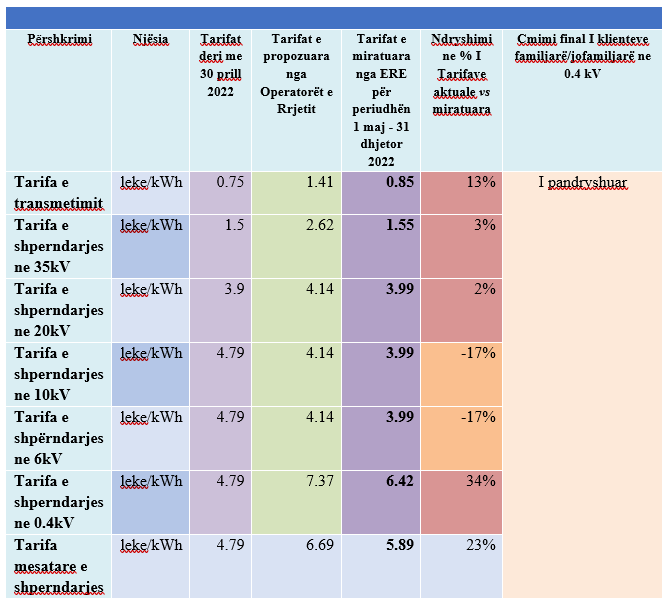 Në mbledhjen e Bordit të Entit Rregullator të Energjisë elektrike, sot në datën 13.04.2022 u shqyrtuan aplikimet dhe u miratuan tarifat për shërbimin e transmetimit dhe atë të shpërndarjes së...
Lexo më shumë
04-04-2022 Njoftime
Enti Rregullator i Energjisë (ERE), në zbatim të Urdhërit të Kryetarit të ERE nr.21, datë 21.02.2022, në datën 15.03 2022, hapi procedurën për përzgjedhjen e furnizuesit të mundësisë të fundit...
Lexo më shumë
30-03-2022 2022
DECISION No. 45, Dated 18.03.2022 ON APPROVING SOME ADDITIONS AND AMENDMENTS ON TAP NETWORK CODE, WITH THE PROPOSAL OF TAP AG COMPANY, APPROVED WITH ERE BOARD DECISION NO. 97, OF...
Lexo më shumë
28-03-2022 Konsultime
Ne lidhje me propozimet e OST mbi ndryshimet e Rregullave te Tregut Shqiptare te Balancimit.
Lexo më shumë